It's no secret that I love queer books.
And I don't mean 'queer' like 'weird'. (If you thought I did…… you must be new AND clueless.) Today I am celebrating this with a post full of rainbow recommendations!
And I know that so many people will also be doing one of these posts but I wanted to do it because…. IT CELEBRATES LGBTQIAP+ PEOPLE/CHARACTERS/CORRECT REPRESENTATION. WHAT'S NOT TO LOVE. I have also tried to list the representation for each book but I haven't read any so feel free to correct me if I got any wrong (in fact please do, I don't want anyone to be offended)
I have already read some great TBR/rec posts for pride month, here are a few! If you've also done one but I missed it I'm sorry ❤
THE BRIGHTSIDERS

LOOK AT THE BI PRIDE HAIR. LOOK. AT. IT. This seems to have a lot of diversity which I am SUPER PUMPED for ❤ #westandiverseYA lol i could have done diversitYA would that have been too much yes it would have been
Coming back to the cover. THE HAIR. THE HAIR THE HAIR THEHAIR. The writing on the glasses is okay, and the tagline isn't amazing BUT THE HAIR REDEEMS IT. (For those who don't know… it's the colors of the bisexual flag) Now I'm just imagining a whole series with pride flags as hair colours. cue *this is never going to happen* music
Also IS ANYONE ELSE EXCITED FOR GOING OFF SCRIPT or is it just me?
rep: bisexual female MC, genderqueer pansexual male LI, non-binary POC SC, queer cast of side characters
RADIO SILENCE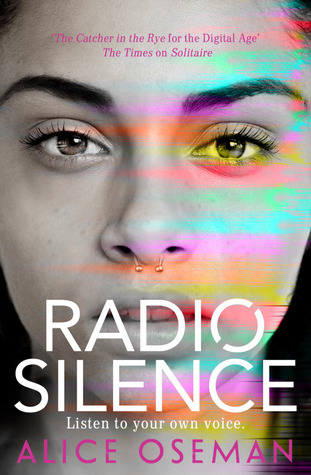 I read something somewhere by Alice Oseman saying basically everyone in her books is queer. That…. sounds like a life goal. This looks so cool and I saw some of her art of these characters and AHHHHH she's such a good artist I actually died during heartstopper (probably because I'm more impacted by things when I see them visually)
Anyway, this looks amazing and if it it's anything like heartstopper I'm sure to love it. (I'd also like to add I Was Born For This and Solitare to this TBR but who knows? This is the book I picked. Any one will do ❤ )
rep: bisexual biracial (Ethiopian/white) MC, gay demisexual SC, gay Korean SC, lesbian SC, Indian pansexual SC
WHAT DID I TELL YOU.
HOT DOG GIRL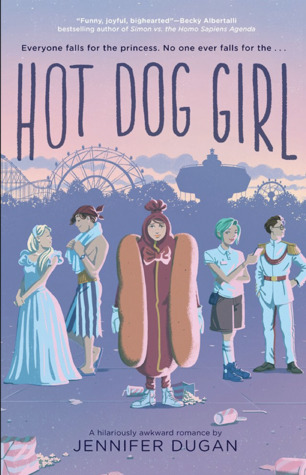 The cover is gorgeous (totally not reading this just for that) and I've heard a lot of people say this has like a rural pastel aesthetic even on the inside??? Which intrigues me. And Lou seems to be a chaotic little dork who schemes a lot. Totally not me in a book.
Basically, girl in hot dog suit + chaotic bi + rural pastel aesthetic + cover love = a very excited Rhi
And also OH MY GOSH I ONLY JUST NOTICED THE TAGLINE ABOVE THE TITLE I'M DYING OF LAUGHTER OVER HERE
rep: bi MC, lesbian SC, f/f relationship
TELL ME HOW YOU REALLY FEEL
This is pitched as a Gilmore Girls Rory/Paris inspired take. Ooh, I'm in. It has a gloriously sapphic cover. I'm officially hooked. IT COMES OUT IN PERFECT TIME FOR PRIDE MONTH AND OH NO THIS SUDDENLY BECAME MY MOST ANTICIPATED READ FOR 2019. Whoops?
But really, this just looks so fabulous and it encompasses everything I love (books, enemies to lovers, Gilmore Girls, sapphic f/f relationship), so I will be really annoyed if it sucks. (If you were an ARC reader for this, please tell me what you thought)
rep: lesbian Muslim MC, Mexican-Jewish lesbian MC
NOT YOUR SIDEKICK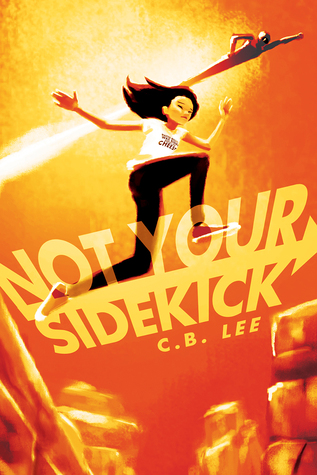 I've heard so many good things about this and am super excited for this one! Superheroes and sapphic romance and diverse ethnicity (Vietnamese/Chinese MC)? COUNT ME IN.
Also the more I look at the cover the more confused I get. WHAT DOES HER TOP SAY? And I ge that she's walking on a glass floor or something but what are the things stacked up? Bales of hay? Pretend I didn't just say that. The arrow is cool though ❤
rep: biracial (Vietnamese, Chinese) bisexual female MC (in f/f romance?), trans male SC
SUMMER BIRD BLUE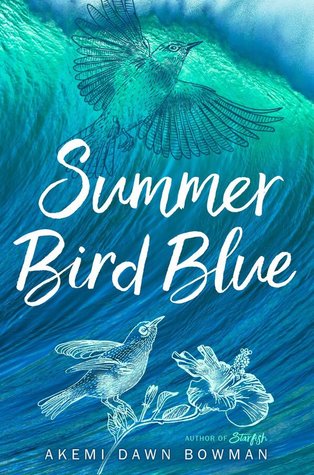 So there aren't a lot of aroace books out there and this has amazing representation apparently? I will be disappointed if not. The only one I've really read is The Lady's Guide To Petticoats And Piracy AND WOW! That… let's just say after that I have high expectations.
I also want to mention Starfish which I would love to read but I'm not sure if it's queer?? I mean, I could look it up but the amount of searching I've already done for this post (trying to find all the correct representation is so hard for just one book you haven't read, and then multiply it by NINE makes it even HARDER.)
rep: multiracial (Japanese, Hawaiian, white) questioning aromantic-spectrum asexual female MC, other multiracial characters (including Japanese, Hawaiian, Korean, Samoan, and white)
I WISH YOU ALL THE BEST

This looks incredible?? I actually haven't come across any books with non-binary characters so I am SUPER excited to try and get my hands on this. Even if it means ebooks.
It probably will mean ebooks.
I want to read this for the romance, but really for the enby character and their character development. Ben just seems so !!!! and agh I can already feel my heart hurting.
rep: nonbinary MC with anxiety and depression, QPOC (black?) boy in genderqueer/m relationship
THESE WITCHES DON'T BURN

Sapphic modern witches and a cool as tarot-card-inspired cover? Heck yeah I'm in.
… I have nothing else to say about this book so I may as well fangirl about the cover.
It's a mix of real-photograph and illustration which honestly works so well for this cover. I've seen it done before and it can get messy but I like this.
rep: lesbian MC, bisexual LI, sapphic/bi/pan (unknown) SC, f/f relationship
WE SET THE DARK ON FIRE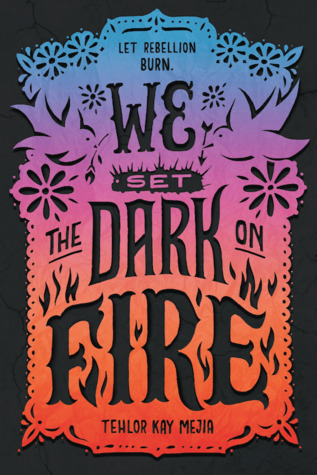 "At the Medio School for Girls, distinguished young women are trained for one of two roles in their polarized society. Depending on her specialization, a graduate will one day run a husband's household or raise his children." – from goodreads summary
HOLD IT RIGHT THERE. Trained… just to run a household.
Thankfully as I kept reading it seems to be about two girls defying/taking down the patriarchy, not just a random girl learning to be a nice wife who can cook and clean and do everything for her husband!*
Also! It's sapphic! So far sounding a bit like Girls of Paper and Fire….. except this isn't fantasy, it's (sadly) based on part of our world (which okay, Girls was too), but a more drastic version…. like dystopia but not? I DONTKNOW.
rep: sapphic Latinx girls in f/f relationship
*please tell me you know this is sarcasm at it's finest
what does your june TBR look like (if you have one!)? doing anything for this month? read any of these books?
also just a reminder that if I got any rep wrong PLEASE let me know!!! it did take me a while and I tried to double check with multiple sources but it can still be a bit hazy